Couples Personal Training
Mobile Trainers delivers in-home couples personal training right to your door. Our in-home training solutions can even be adapted to accommodate small groups of 3 to 5 individuals.
Reasons Clients Love Couples and Small Group Training:
Offers all the same great benefits of our in-home personal trainer service
More economical than individual in-home training
A greater sense of community and accountability
Much more customization and individual attention than a large group setting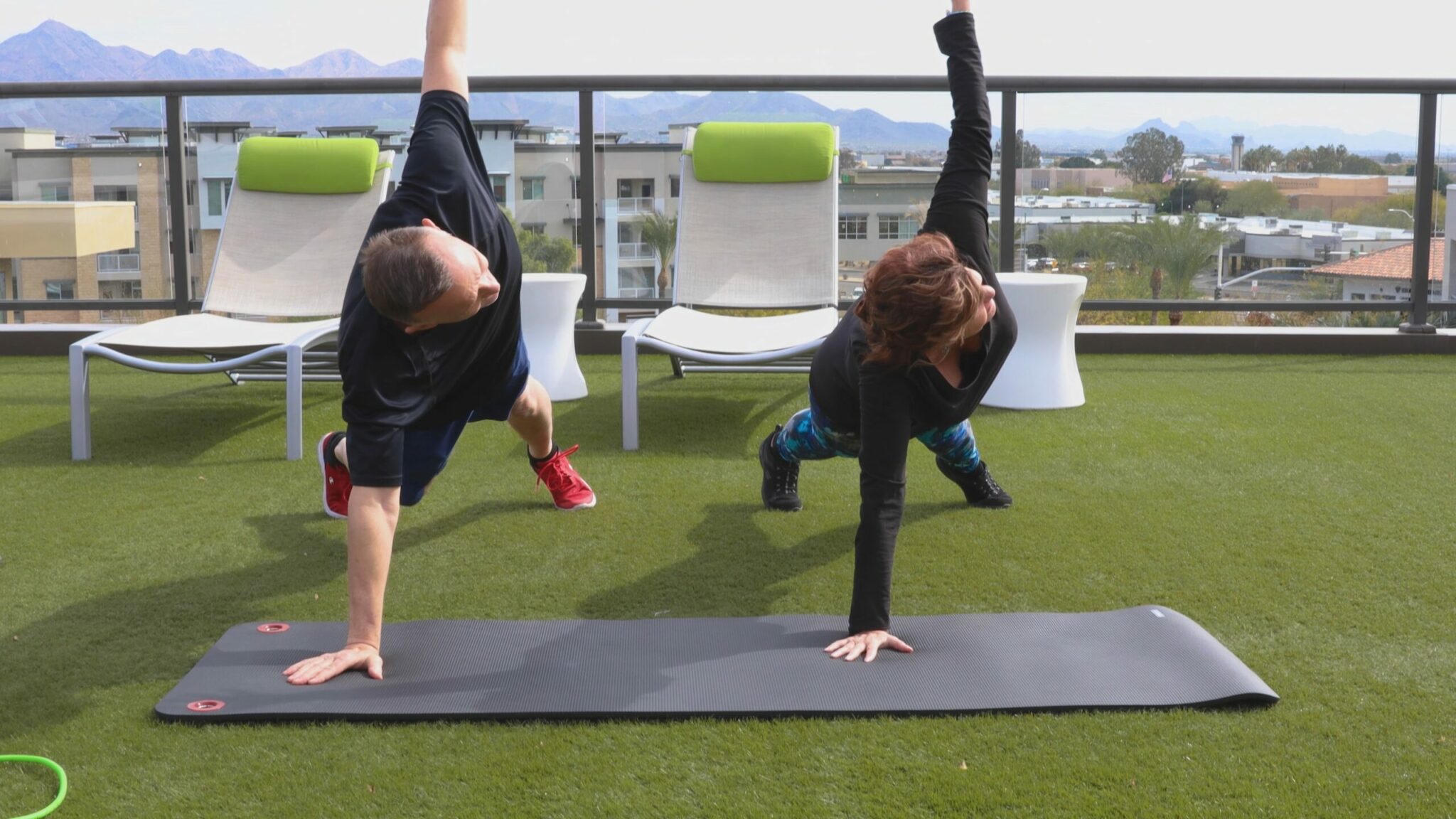 Additional Benefits of Couples Personal Training
You share meals, binge watch your favorite shows, and make plans for the future with your significant other. Why not share one more thing together — a couples' fitness journey? While there's certainly nothing wrong with going it alone, research indicates couples who sweat together, stay together.
Wondering if couples' personal training could be right for you? Here are a few benefits to consider.
Couples' Personal Training Leads to Better Results
If you're looking to get the greatest benefits from your workout, get your partner involved. Research indicates just having your loved one by your side could boost your performance and increase your energy output. Plus, couples who support one another in their fitness goals by being there both physically and emotionally are more likely to engage in regular exercise — meaning you're more likely to stick to your goals if your partner shares them with you.
Couples' Personal Training Can Boost Your Relationship
Strengthening your relationship may not be the primary reason you'd sign up for couples' personal training, but it's definitely an added bonus. Engaging in a challenge together can lead to increased satisfaction within a relationship. Watching your significant other crush their goals and get stronger can also boost their confidence and your attraction — something we'd consider a win-win. There's even a scientific phenomenon that happens when couples work out together known as nonverbal mimicry, or the act of maintaining a rhythm with one another, which can deepen your bond. Feeling a bit out-of-sync with your partner? Couples' personal training could be just what you need to get back on track.
What to Expect from Couples' Personal Training
Just because we're training two people at once doesn't mean you should expect anything less from your experience with us. In fact, you'll enjoy all of the benefits of our in-home personal training program, just with the extra perk of having your favorite person by your side. Like all of our training programs, you'll get:
Customization: Our in-home couples' personal trainers get to know your current fitness levels, goals, and preferences to create a customized program that works for you.
Convenience: You won't have to worry about commuting to a gym, fighting the crowds in the parking lots or workout areas, or waiting for your favorite equipment to free up. You'll get to skip the germs, too.
Comprehensive Training: Your program is strategically designed to meet your needs and goals, which may include weight loss, strength gains, flexibility, cardio, sports-specific training, corrective exercise, and senior fitness, among others.
Ready to get stronger and fitter as a couple?
Schedule your free evaluation session
now!
Frequently asked Questions
No Need for Equipment: As with any of our services, there is never any need to provide any equipment, as we bring a vehicle fully stocked with premium equipment, right to your doorstep.
Customized workouts: While some elements of the program will need to be consistent across the group, our small group personal training program still include a large amount of customization to address the individual needs and goals of each member in the group.
Nutrition: You will also have the option of meeting with one of our virtual nutritionists to design a nutrition plan that will help support your goals as well.
Corrective Exercise: Just like any other personal training program from Mobile Trainers, we will still address muscular balance and corrective exercise. It is imperative to have a strong foundation for proper body movement prior to building your fitness level.
Progress Tracking: Like our other services, Mobile Trainers will provide you with free monthly state-of-the-art monthly body composition scan to monitor: muscle gains, fat loss, and more. We'll use this information to continue to optimize your ongoing training regimen.
Training Frequency: This will depend on the individual needs and goals of the group, but our typical recommendation is 2-3 times per week with your trainer. We will then give you instructions for additional workouts to do on your own each week, which can be accessed online.
Scheduling: We can accommodate most times between 6am to 8pm Monday through Friday, with additional time windows in the morning and afternoon on the weekends.
How to get started:
Simply give us a call or fill out the form below to schedule your free evaluation session!


START WITH A FREE EVALUATION SESSION!
Schedule a free session now and let one of our Mobile Trainers come to your home to discuss how we can help you and your group reach your goals.