F

EMALE

P

ERSONAL

T

RAINERS
DELIVERED TO YOUR HOME
Fill Out the Form to Schedule a Free Consultation.
Train With Our Female Personal Trainers!
Enjoy the benefits of training with our elite female trainers. They provide all the expertise, comfort, motivation, and guidance you are searching for.
Available Services
Goals We Deliver
IN-HOME TRAINING
TOP 1% OF LOCAL FEMALE TRAINERS
Top Female Personal Trainers Delivered To Your Door! Mobile Trainers is Taking the Best Local Trainers Out of The Gym and Bringing Them Directly to You!
In fact, our requirements are so high, we hire less than 1% of personal trainers that apply to be part of our Female Personal Training team!
We create a in-home training program, nutrition program, and overall experience tailored to your goals and requests! And we provide all the equipment, motivation, and expertise needed to meet your goals.
A Word About Our Female Personal Trainers
Our Female Personal Trainers are in-home training specialists and an essential part of the Mobile Trainers team.
The benefits of working with a personal trainer span far and wide. You can expect a higher level of accountability and motivation, plus fitness plans personalized to your specific goals. Trainers know when to introduce modifications to prevent injuries or meet you where you're at physically. They know how to challenge you appropriately in a way that helps you reach goals without compromising form or quality. With their education and experience, you can expect to meet your goals faster and more effectively than you would through independent workouts. Of course, not all fitness trainers deliver the same experience.
And, for many women, hiring female personal trainers just makes sense — here's why.
Why Women Say They Prefer Our Female Mobile Trainers
Female Personal Trainers Understand Your Body
While male trainers can certainly guide female clients through personal training programs effectively, female personal trainers have an acute knowledge of female anatomy. That's because they already know what it's like to work out as a woman. They have a deep understanding of the mechanics of the female body, as well as the physical challenges that affect women. For example, female trainers are especially well suited to help with:
Fitness during pregnancy and postpartum
Female teen athletes, who are developing at a different rate than male teens
Senior fitness for females, with a focus on issues such as osteoporosis risks
You May Feel More Comfortable with a Female Personal Trainer
If you're more in your comfort zone working out with a female personal trainer, you're not alone. Many women feel more at ease with another woman — and it's no surprise why. We tend to form strong friendships among members of the same sex, and the ability to open up and be vulnerable is important during any fitness journey. You may therefore be more inclined to challenge yourself or let your trainer know if you're struggling when you know you're in a safe, comfortable space shared by another women. If you feel more comfortable talking to another woman about body changes or any other topic that may come up during workouts, then working with a female personal trainer is likely the best route for you.
Female Personal Trainers Are Skilled & Knowledgeable
While the fitness industry was once male-dominated, we've come quite a long way since the early days of sports. Women now make up more than a third of all personal trainers in the U.S. Of course, we don't have to tell you that they're every bit as knowledgeable, talented, and skilled as any male trainer.
Such a statement is only more true for Mobile Trainers! Our team is not average or typical fitness professionals by any stretch of the imagination! Our trainers often have: a health/fitness college degree, top training certifications, multiple certifications, years of training experience, an awesome personality, and a deep passion for helping people. In fact, we employ less than 1% of the trainers that apply to be a member of our team!
How to Get Started
If you're interested in working with Mobile Trainers, simply give us a call or schedule a complementary consultation via the form below, and a member of our staff will contact you shortly to confirm an appointment. We look forward to joining you on your fitness journey!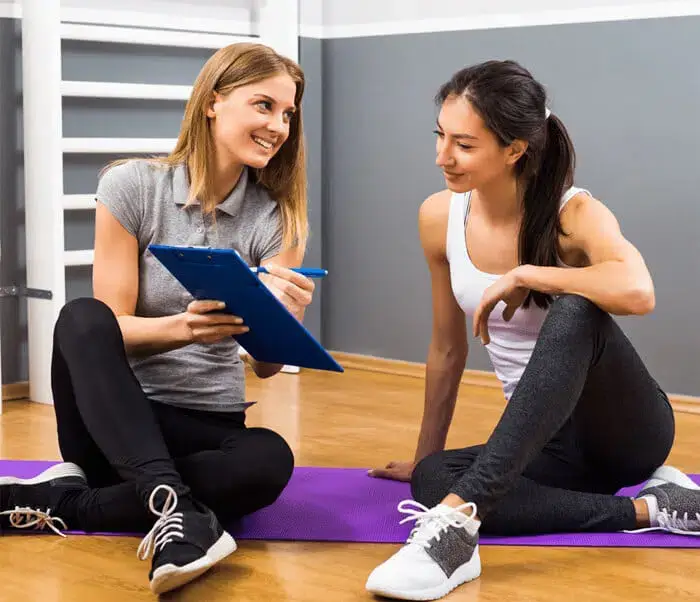 BOOK A FREE SESSION NOW.
Please fill out the information below to schedule a free evaluation session. One of our trainers will get in touch with you.