Home Personal Training
What is In-Home Personal Training?
In-home personal training offers all the benefits of hiring a personal trainer at the gym and more! We deliver premier personal trainers right to your door for one-on-one or couples workouts! Unless you're a powerlifter, the same workouts our trainers would do at a gym can be conducted from the comfort of your home.
Just imagine: no commute to and from the gym, no crowded workout area, and no germ-infested equipment. With your own home fitness trainer, workouts can be where and when it is convenient for you - day or night!
Customization, customization, and more customization! Before designing your program, our in-home personal trainers will get to know your fitness level, your goals, and your training preferences. You can even choose which personal trainer you want to work with!
Can you choose a male or female for your in-home personal trainer? Absolutely! In fact, it's one of the most common requests we get from our clients.
Your Training Program will be carefully designed to meet all of your needs and goals, which can include: weight loss, strength gain, corrective exercise, senior fitness, sports specific training, youth training, flexibility, cardio, postpartum weight loss, core strength, and more.
If you aren't convinced yet, check out this article on 10 more reasons to hire an in-home personal trainer.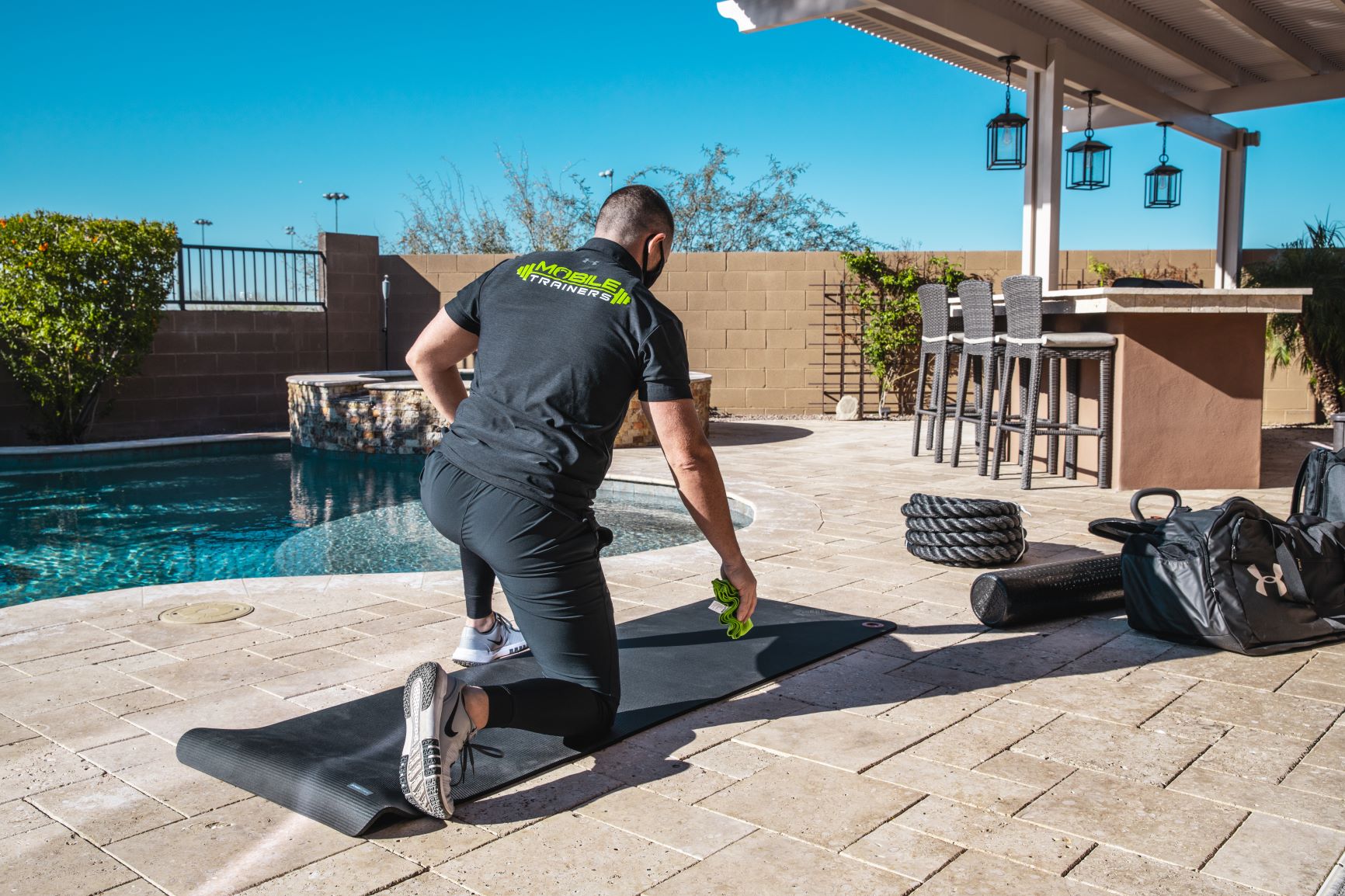 Is it Safe?
Your safety and security is our number one priority. Our hiring process includes a thorough background check and screening process, and unlike many Trainer Locator Services out there, our in-home personal trainers are actually our employees! So, rest assured, we know our personal trainers very well, and we know you are in good hands with each and every one of them.
Injury prevention is also top of mind for every bit of your training program! Our programs are designed to account for any previous injuries, aches, or pains you're dealing with, and it will be updated each month based on your progress and response to the training.
Of course, COVID safety is at the forefront of any of our safety procedures. Learn more about our COVID response. We were founded during the pandemic, so COVID safety is something we have thought about since Day 1, and we are accounting for all of the CDC's and NASM's guidance for COVID prevention. We want to help people reach their goals safely. COVID safety is just another benefit of in-home training, because traditional gyms simply cannot keep the threat at bay due to the volume of traffic they experience. The fact is, the gym will never be a top choice for a sanitary workout environment, but your home certainly is!
How Often Will You be Training?
The recommended amount of training will depend on your goals. That recommendation doesn't change based on your budget. However, if you would like to keep costs down, we can supplement our in-person training with free online training sessions that you can do on days you're not working out with your trainer. These training sessions will be designed by your personal trainer, and they will include video tutorials.
Typically, we recommend training with your trainer 2-3 times per week and doing a couple additional sessions on your own. In addition to the online training programs, our mobile app also includes: exercise logging, progress tracking, and nutrition logging.
Where Will We Do the Workout?
Workouts can be performed indoors or outdoors, whichever you prefer. In fact, we pride ourselves in being able to deliver epic workouts in as small as a 10' X 10' area!
Clients are never required to provide their own equipment. Our vans are stocked with a huge variety of premium equipment to choose from.
What Can You Expect for RESULTS?
Mobile Trainers specializes in the areas of corrective exercise and body transformations. We have an intense focus on providing measurable results for our clients. We won't send anyone to your home that isn't capable of delivering your results, and in fact, you should know that less than 1% of personal trainers that apply to be a member of our team are accepted!
"Unlike most gyms, our Trainers aren't required to do sales, they're required to get results! Each month, we will monitor your progress, and it is your trainer's job to provide you with measurable progress toward your goals."
Personal trainers are too often distracted by sales quotas and promotions, and they fall short in delivering huge results for their clients. Here at Mobile Trainers, we are dedicated to a more effective personal training experience!
And to ensure we're making optimal progress, Mobile Trainers performs a state-of-the-art 3D body composition scan every month! This helps us monitor muscle gains, fat loss, and more, and we'll use this information to continue to optimize your ongoing training regimen. Your program will actually be adjusted based on your body's response to the training!
Our specific process is also unique in that we offer huge results without the use of heavy weights - focusing on hard work and time under tension rather than potentially joint-straining weights or movements!
Will Your Results Last?
Our goal reaches beyond your fitness transformation. Not only do we want to help you get fit, we want to help you STAY fit! Our personal trainers will be educating you on the exercises and workout objectives throughout the process.
Once you've achieved your fitness transformation, you should also know how to do all the exercises on your own, and how to assemble new workouts! In addition, you can also choose to retain access to all the pre-built workouts and programs that our personal trainers put together during your fitness journey.
Your Free Evaluation Session
Schedule a free session now, and let one of our Mobile Trainers come to your home to discuss how we can help you reach your goals and change your life for the better. Learn more about what do expect from your free personal training session. We look forward joining you on your in-home fitness journey!


START WITH A FREE EVALUATION SESSION!
Schedule a free session now, and let one of our Mobile Trainers come to your home to discuss how we can help you reach your goals and change your life for the better.