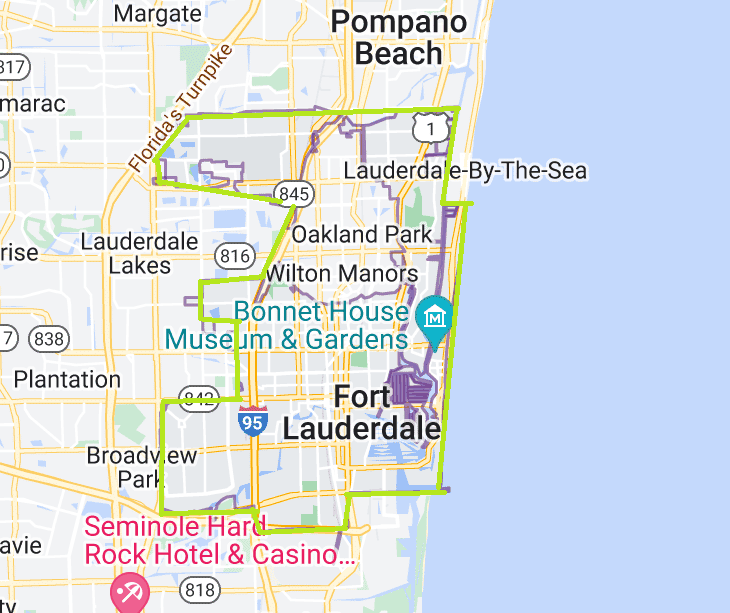 Personal Training Fort Lauderdale
Coverage Status:
Fully Covered
Number of Available Trainers: 3
Residents of Fort Lauderdale, FL are known to enjoy a healthy, active lifestyle. Part of this stems from the area's mild climate, which makes it easy to enjoy outdoor fitness year-round. Another factor is the thriving gym community throughout the area: there's no shortage of options to for fitness enthusiasts. Yet, if you're not sold on the gym scene or outdoor workouts, there's still another way to meet your fitness goals, whatever you're trying to accomplish (lose weight, train your muscles, improve your posture).
Our Fort Lauderdale personal training service combines the quality of gym workouts with the convenience of staying home. We know that most people want to exercise every week, but time constraints are a major barrier to getting in a good workout. For this reason, we bring personal training experience directly to your door for an efficient, quality-driven routine.
Our Fort Lauderdale Personal Trainer Makes Your Workouts Count
From busy professionals to new parents, most people are trying to pack more into their days than ever before. The good news is you don't have to spend hours at the gym or exercising outdoors to make your efforts count. Mobile Trainers Miami Florida delivers a customized workout program developed to reach your goals. We are highly motivated to help you transform your physique, shape your muscle, and stay fit while you focus on your health
We've hand-selected the Fort Lauderdale area's leading talent for our team of trainers, so you can rest assured you're getting the industry's best talent to guide you through your fitness journey. These local trainers are educated, experienced, and dedicated to supporting you through every workout. Our team members will get to know all about your wellness and fitness goals and priorities during your first in-home training session. Then, they'll come back two to three times a week for invigorating workout sessions that help you overcome any obstacle and meet your goals. You can expect the program to be fun, appropriately challenging and tailored to your needs; our trainers can work around previous injuries and specific preferences to ensure the safety of each workout. Personal Training might seem to cost money but it is in fact very affordable considering all the benefits. Apart from weight loss, This includes higher levels of confidence and self-esteem, which will reflect on every aspect of your life. In addition, since personal training programs are customized to each client, you don't need to be concerned with the risk of an injury.
Our clients are happy to know that virtually all aspects of our program are customizable. You can select a great personal trainer, add an optional nutrition element for individualized dietary recommendations, and work out solo or with a partner for couples' sessions. And don't worry when it comes to finding enough space for strength training and conditioning or weight training: all we need is a 10' x 10' area, or a safe outdoor setting on your property.
Tracking Your Progress
We know you're probably pursuing your fitness journey because you want to see some sort of measurable change in your bodies. For this reason, we provide complimentary 3D body composition scans monthly to track training progress effortlessly. Watch as you close in on your goals — our personal trainers will be right beside you, offering you professional guidance and our knowledge, modifying your routine to prevent plateaus.
If you're ready to make lasting fitness changes, schedule your first session with your first personal trainer in one of our Fort Lauderdale personal traiers by filling out the form below.
Watch to Learn More About Personal Trainers in Fort Lauderdale


START WITH A FREE EVALUATION SESSION!
Please select the button below to schedule your initial complimentary evaluation, and a member of our staff will come to you to discuss how we can help you achieve your goals.