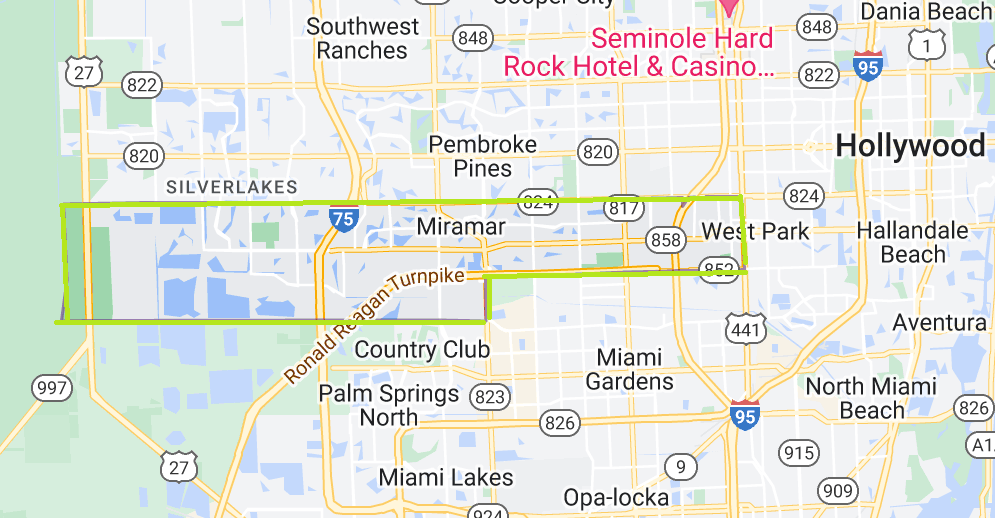 Our Miramar Personal Trainers
Coverage Status:
Fully Covered
Number of Available Trainers: 3
Located in the Miami metropolitan area, Miramar, FL is home to both national fitness chains and boutique wellness centers. If you've frequented these fitness centers before and are seeking an alternate way to reach your goals, Mobile Trainers is here to help. Our Miramar personal trainers offer convenient in-home sessions designed to maximize your time.
In-Home Workouts with Experienced Miramar Personal Trainers
Our trainers help you pursue the results you'd achieve with a fitness professional at the gym without actually having to leave your home. Aside from powerlifters, most people don't need heavy-duty gym equipment to reach their fitness goals. And as for the equipment you do need, you can rest assured our trainers will provide it — all you'll need is yourself and a space as small as 10' X 10' to get a heart-pounding workout that brings you closer to your goals.
To get you started, one of our trainers will visit your home for a free initial evaluation. Keep in mind that you'll have the option to choose a trainer, including a male or female. We'll discuss your goals, expectations, and current health and fitness considerations. This in-home consultation is important for helping our trainers customize a plan based on your specific needs. Developing a comprehensive client profile is also essential to injury prevention — a core component of all our fitness programs.
Once your personal trainer develops a roadmap for you, training sessions will begin. Most of our clients meet with their trainer two to three times a week, but you can adjust the frequency based on your preferences and needs. In between your in-home workouts, you can also use our free online training sessions to stay active and continue progressing towards your goals.
Since fueling your body appropriately is an important aspect of optimizing your exercise efforts, we also offer an optional nutritional component to your program. We eliminate the guesswork that often comes with healthy eating, providing detailed, personalized recommendations to fuel you appropriately. We even offer an easy-to-use app for convenient exercise and nutrition logging.
What Sets Mobile Trainers Apart
While most gyms and fitness centers require their trainers to make sales, our team is driven only by results. It's your trainer's job to guide you in making measurable progress, which is why we track body composition changes through a free monthly 3D body scan. Numbers don't lie; you can track proof of your progress month over month with these complimentary scans.
Our well-rounded, unique approach is part of what makes our retention rates so much higher than those of a typical gym. Clients stick with our trainers nearly four times as long as they hold onto their gym memberships. When you consider how important consistency is to reaching your goals and maintaining results, this key differentiator is certainly worth noting.
Don't just take our word for it, though. Experience the difference for yourself — schedule your first session with one of our Miramar personal trainers by filling out the form below.
Watch to Learn More About Mobile Trainers


START WITH A FREE EVALUATION SESSION!
Please select the button below to schedule your initial complimentary evaluation, and a member of our staff will come to you to discuss how we can help you achieve your goals.