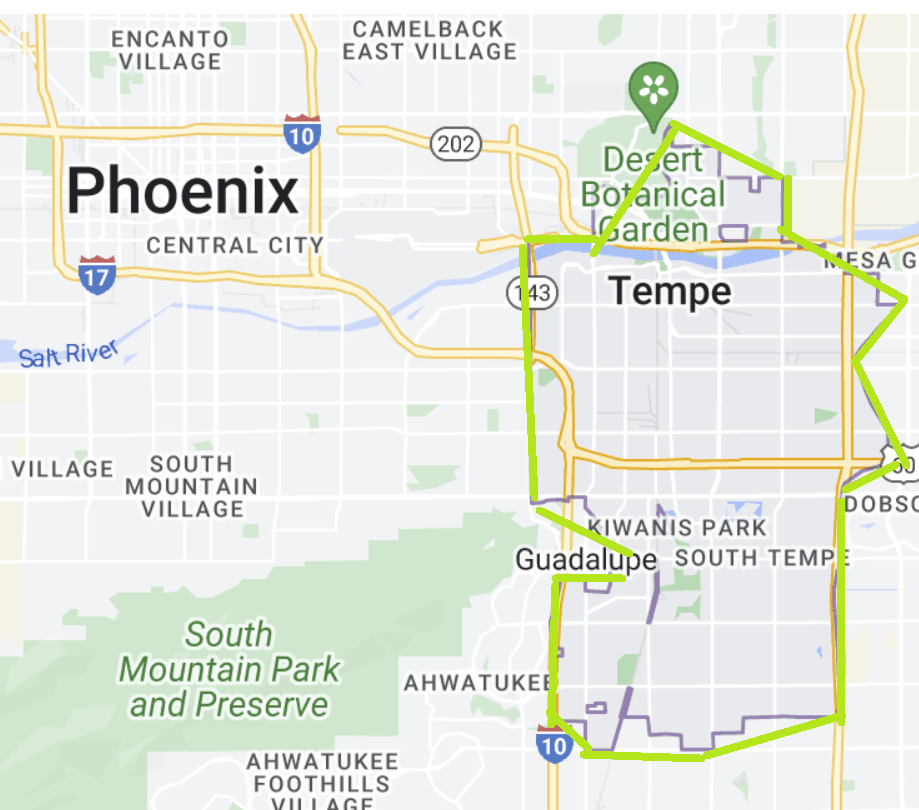 Our Tempe Personal Trainers
Coverage Status:
Fully Covered
Number of Available Trainers: 5
Like many other fast-paced metropolitan areas, Tempe, AZ has dozens of options for getting high-quality training classes. Chances are, you've tried at least one — whether it's a fitness studio or a nationally recognized gym. And, if you're like most people, you may have gone with enthusiasm for the first few weeks, then eventually dropped off..
There's a reason why gym memberships have low retention rates. While the gym is a great environment for power lifters gearing up and training for their next competition, the average clients or members don't need all that equipment to stay fit or in form. And, since the most effective workout is the one you'll stick with, it's best to find a motivating exercise regimen that keeps you coming back.
Our Personal Training Professionals
We bring the equipment and expertise to your door for a convenient and effective in-person experience in line with what you'd expect from the best personal training professionals at the gym. The difference is that you won't have to worry about commutes, parking lots of the facility, machine availability, or germs, but you'll still get all the fitness results you're seeking in healthy and welcoming environment of your own home.
Crushing Your Goals with a Tempe Personal Trainer
Maybe you're jumping back into exercise after a long hiatus without strength training, or perhaps you've never stuck with a workout routine for very long because you get tired of your diet or training programs. Or, m Maybe you're a longtime fitness enthusiast looking for that extra accountability push to change things up or break past a plateau. Or, maybe just need a new challenge, or want to improve your health and have a better lifestyle. Whatever brought you here, we're confident you'll find value in our uniquein-home personal training program.
It starts with a free one-on-one session in your home, during which your trainer will learn all about your previous exercise experience and current fitness level s, as well as your long-term goals and expectations. They'll also fill you in on what to expect from the program. From there, our personal training experts will craft a workout regimen exclusively for you, taking into consideration any preferences you may have.
When you're ready to begin, you'll meet two to three times a week for fun and effective sessions that bring you closer to your goals. In between sessions, you'll also be able to do free workouts online. Track all your progress through our easy-to-use app, and stack on track with nutrition by adding our optional counseling from our expert team.
Unlocking Results with Mobile Trainers
We know how frustrating it is to get several weeks into a training program and felt as if you're seeing little to no progress. Whether you're fitness goals and needs includestrength gains, fat loss, cardio, postpartum weight loss, or youth training, our personal training experts have you covered. There are no empty promises here, and we're so committed to helping you meet your fitness goals that we offer free 3D body composition scans so you can see the changes yourself and make your journey more enjoyable. These assessments provide far more details than the number on the scale alone to the client, giving you insights into how your body is changing as you continue to work hard.
If you're ready to start pursuing amazing results and success, schedule your first session with one of our personal training specialists near Tempe below. We'll create a professional training program for you that you can follow easily, no matter if you are just beginning or want to level-up and challenge yourself.
Watch to Learn More About Mobile Trainers' In-Home Personal Training Service


START WITH A FREE EVALUATION SESSION!
Please select the button below to schedule your initial complimentary evaluation, and a member of our staff will come to you to discuss how we can help you achieve your goals.