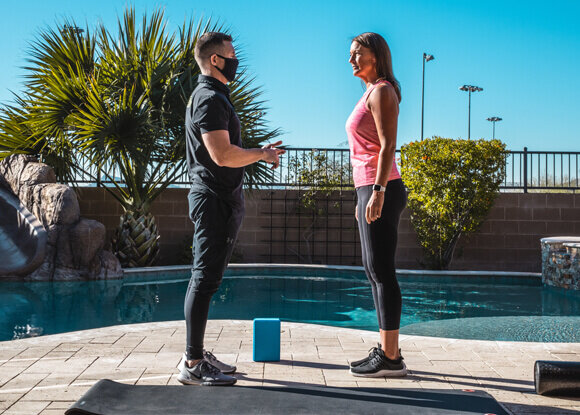 What areas do you serve?
Currently, we can deliver on-site trainer in the following areas: Scottsdale, Arcadia, Carefree, Cave Creek, Chandler, Fountain Hills, Gilbert, Glendale, Goodyear, Mesa, Paradise Valley, Peoria, Phoenix, Scottsdale, and Tempe
What hours is training available?
Our sessions are typically conducted between 6am and 9pm, seven days a week. We will do everything possible to accommodate the time(s) that work best for your schedule.
Am I really going to meet my goals?
In our free evaluation session, we will discuss your goals and be perfectly honest about what it is going to take to achieve them. Even better, we are going to design an entire program just for you and your goals. We will then monitor your progress each month to make sure you are on track. Just don't be surprised if we make you do some hard work along the way!
Do I need a home gym?
No! We will bring a van fully equipped with a huge range of high-end training equipment, everything we need to deliver an exercise program that will meet and exceed your goals.
Can we train outside?
Absolutely! We train clients both indoors and outdoors. The choice is yours!
I am a woman, and I would prefer a female trainer. Can I request a female trainer?
Of course! We want to make sure every client feels comfortable with their Mobile Trainer. The entire program is going to be customized to you!
I have very specific goals. How do I know the trainer I'm assigned will be right for me?
In your free evaluation session, we will discuss your fitness goals at length, and the mobile trainer we assign to your program will be a specialist in your particular area of focus.